Skip to Content
Find All Your Bedroom Furniture in Wilmington, DE
Your bedroom should be a place where you can relax and forget about the troubles of the day. But with uncomfortable furniture, you may find it hard to do so. Pala Brothers Furniture is here to help you transform your space with new bedroom furniture for your home. We offer beautiful styles from top manufacturers, like Hickory Chair, Century, and Jonathan Charles. We have a huge selection of furniture and décor to choose from, which means no matter your style, you're sure to find something you love. From classic pieces to modern designs, we have it all. Stop by our showroom today and let us help you re-decorate your space!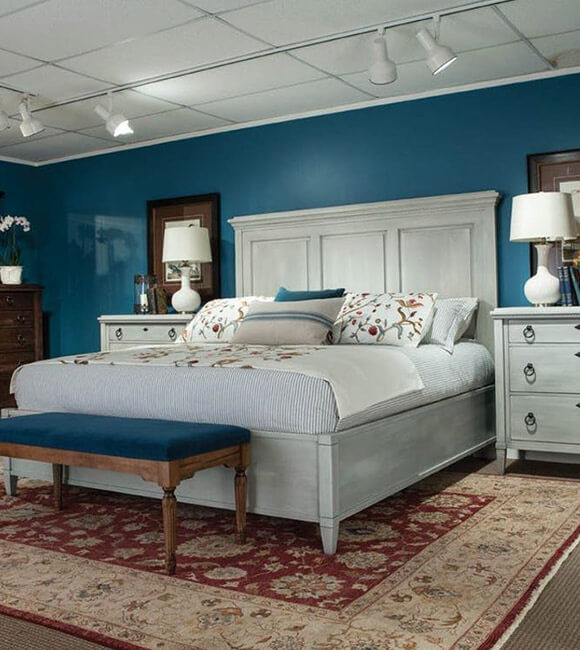 Redecorate Your Bedroom
The best furniture is both beautiful and functional. One without the other leaves something lacking in your space. A gorgeous bed means nothing if it isn't comfortable enough for a good night's rest. A stunning dresser is useless if it doesn't provide ample storage space to meet your needs. At Pala Brothers Furniture, we'll ensure you get both aesthetic appeal and functionality from our selection of top-quality furniture. We have all the items needed to totally revamp your bedroom space and decorate it with a stylish touch. You'll find all of the following at our showroom in Wilmington:
Bed frames and headboards
Mattresses
Bedding
Nightstands
Chests and dressers
Mirrors
Storage cabinets
Visit Us Today
If you're ready to redecorate your bedroom, Pala Brothers Furniture is the place to go! We have a team of friendly and helpful staff that will give advice and provide guidance as you choose new bedroom furniture for your home. Our convenient location allows us to serve customers from Delaware, Pennsylvania, New Jersey, and Maryland. Visit us in tax-free Delaware and save on your new furniture purchases. We can't wait to see you!
The Best Value for Your
Home Furnishings